The science is clear!
Mindfulness helps us focus better, reduce stress, lower blood pressure, experience greater calm, expand our capacity to learn new things and pay attention to what matters.
---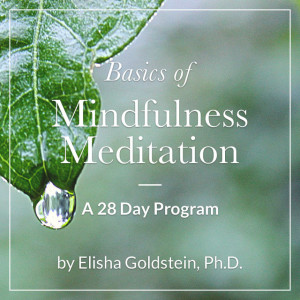 Basics of Mindfulness Meditation: A 28 Day Program
by Elisha Goldstein, Ph.D.
$97
Learn the basic elements of integrating mindfulness into daily life, how to work with distraction, practice the core elements of formal meditation and open up to more experiences of compassion and balance.
---
Within 28 Days you'll be more prepared to make mindfulness a powerful force of transformation in your life.
---
Structure of the Program
Each week of this comprehensive 28 day training program is crafted with teachings and practices to give both beginners and experienced meditators a deeper understanding of the power of integrating mindfulness into daily life. Here as sample of a few of the things covered during the 28 days:
Week 1
Basics of Mindfulness Meditation
Learn to become mindful
How to stay focused and work with the wandering mind
Understand and apply the 8 essential attitudes to set you up for success
Practices: Mindful Check-in and Mindfulness of Breathing
Week 2
Mindfulness of Body and Emotions
Learn to see the "choice points" all around
Understand how the body helps build emotional intelligence
Experience how to open up to joy in daily life
Practice: Body Scan
Week 3
Mindfulness of Self-Compassion and Compassion
Experience the power of self-compassion and turn the volume down on negative thinking
Cultivate compassion
The Science of Smiling (It's more powerful than you think)
Practices: Self-Compassion and Lovingkindness
Week 4
Mindfulness of Balance and Freedom (Equanimity)
How to train the mind to "let go"
How to find peace wherever you are
How to find connection in a disconnected world
Practice: Sky of Awareness
---
The science is clear on the positive effects of Mindfulness.
This step-by-step program lays out exactly what you need
to begin or deepen your experience of mindfulness
in your daily life.
As the 15th Century Indian Poet Kabir said,
"Wherever you are, that's the entry point."
Let this be your entry point.
Science-Based Benefits of Mindfulness
Focus Better
Reduce Stress
Lower Blood Pressure
Experience Greater Calm and Peace
Be More Content and Happy
Pay Attention to What Matters
---
Start Your Mindful Revolution
Here's what you'll get today:

One focused lesson everyday for 28 days to cultivate mindfulness meditation in your daily life. Plus, every week will have one or two guided meditations to begin practicing with. This is all yours to own forever.
Waking up every morning with clarity on exactly what you need to deepen your practice with the power of meditation.
Dr. Elisha Goldstein's experienced support and guidance along the way when you're feeling stuck.
Register Today for $97!
If you're ready, let's get started.
---
Testimonials
"I found your program to be life-changing! I'm calmer, happier, and more patient."
"Love this program!"
"Three weeks in and I find myself loving this practice. I am ever grateful that I found your book and this 28 day program. It really has been life changing. I am much calmer. More present with my work, friends and family and more forgiving and accepting of myself. Thank you!"
---
Frequently Asked Questions
How does the eCourse work? »
This eCourse begins as soon as you want it to. Throughout the course you will be sent a daily lesson that includes a topic for the day and a practice. Every week will have one or two guided meditations to begin practicing with. At times you will have the options to choose between a shorter version of the meditation and a longer version depending on what you feel comfortable with.
Once you purchase this course you will own all the writings and audio meditations forever.
What is the week-by-week course outline? »
Week 1: Basics of Mindfulness Meditation
Week 2: Mindfulness of Body and Emotions
Week 3: Mindfulness of Self-Compassion and Compassion
Week 4: Mindfulness of Balance and Freedom
What can I expect to get out of this course? »
It's an invitation to a playful adventure of your life. Perhaps for the first time you'll begin to see the spaces of awareness in daily life where choice points lie to break free from old patterns and into a life of greater joy and freedom.
We'll explore things like:
What is the stress cycle and how to do I transform it with mindfulness?
What is self-compassion and how do I start putting it into practice?
How can I use mindfulness to stay centered and balanced during the tough moments in life?
How do I stop falling into bad habits and start taking care of myself truly?
How can I pay for the eCourse? »
You can pay for the eCourse via PayPal with Visa, Mastercard and America Express.
What are the required materials for the course? »
There are no required materials for this course. However, if you do not already have Elisha Goldstein's book,
The Now Effect
, this can be a good complement to the course and can be found at the following retailers: Amazon, Barnes & Noble, Books-A-Million, Indie Bound and Powell's.
Can I take this class with friends and family? »
Yes! The best thing you could possibly do for yourself is to get a buddy with you to do this course. You can talk to a friend, colleague, family member or someone in your faith community – the Mindfulness Revolution starts with each one of us taking life one moment at a time. As the wonderful author and peace activist Thich Nhat Hanh says, "Peace in oneself, peace in the world."
Is the course available worldwide? »
Yes! It's easy to start the 28 day program no matter where you are in the world.
Can I get a refund? »
Elisha is a pretty fair guy and wants to make sure you feel secure going into this. You can get a refund up until the end of week one.
About Elisha Goldstein »
Elisha Goldstein, Ph.D. is author of The Now Effect, co-author of A Mindfulness-Based Stress Reduction Workbook, Foreword by Jon Kabat-Zinn, author of Mindfulness Meditations for the Anxious Traveler: Quick Exercises to Calm Your Mind, the Mindful Solutions audio series. He has designed programs such as the Mindfulness at Work™ program currently being adopted in multiple multinational corporations and co-designed with his wife Stefanie Goldstein, PhD the CALM program – Connecting Adolescents to Learning Mindfulness. He is a clinical psychologist in private practice in West Los Angeles.
What if I have additional questions about the eCourse? »
What if I have billing questions after I've registered for the course? »