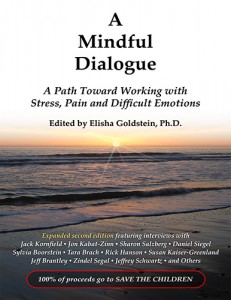 eBook

$9.99 (100% of proceeds go to SAVE THE CHILDREN)
The first edition of A Mindful Dialogue launched January 24, 2010 right after the earthquake in Haiti and was created as a vehicle toward raising the necessary funds to inspire hope and to help rebuild a devastated Haiti. Since this time there has been a major flood in Pakistan, a striking Cholera Outbreak in Haiti, the children of Egypt are in the midst of violent clashes putting them at risk for death, injury or psychological trauma, and over 100,000 children have been displaced in Japan after the earthquake, Tsunami and risk of nuclear radiation.
A Mindful Dialogue raised over $2,000 to Hope for Haiti Now.
A Mindful Dialogue – 2nd Edition expands the first book with some new interviews and writings written to be a companion through life when dealing with stress, pain and difficult emotions. Through interviews with leaders in the field such as Jon Kabat-Zinn, Jack Kornfield, Dan Siegel, Sharon Salzberg, Tara Brach, Rick Hanson, Zindel Segal, Susan Kaiser-Greenland and Others and short explorations of simple quotes from leaders such as Thich Nhat Hanh, the Dalai Lama, Rumi, Hafiz, Pema Chodron and Others, you'll uncover a mindful path toward working with the stress, pain and difficult emotions in daily life.
As you may know, Japan is in the midst of its greatest devastation since WWII. The violence in Egypt has killed over 300 people. The death rate for children under 5 is 41 in 1,000. Forty percent of children are anemic, 2.7 million children engage in some form of work, and 54% of rural upper Egypt girls ages 13-15 are not enrolled in school. In July 2010, a flood in Pakistan destroyed over a million homes and thousands of adults and children died. On October 24, 2010 a Cholera outbreak occurred in Haiti which means there must have been significant breaches in water, sanitation and hygiene create a large scale contamination and exposure. There are too many more examples of this, the children in this world still need our help.
Your purchase of this eBook will not only provide you with this great material, but 100% of the proceeds will go to SAVE THE CHILDREN which sponsors children all around the world who have become victims of tragedies.