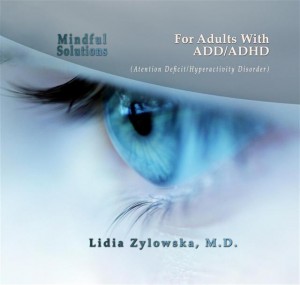 Audio CD

$15.95 + shipping
While we all can feel inattentive at times, some people struggle with it most of the time and about 7-9% of children and over 4% of adults in the U.S. are diagnosed with ADHD (Attention Deficit Hyperactivity Disorder).
Lidia Zylowska, M.D., is a Psychiatrist who is leading the wave of integrating mindfulness into ADHD treatment. In her newest audio psychoeducational and experiential album, Dr. Zylowska takes us through what mindfulness is, how to better understand your ADHD, and guides us through mindfulness practices to help us cultivate the change we need to live the lives we want.
A Message from Dr. Zylowska:
"I invite you to explore this new way of being with yourself, your ADHD, and the rest of your life.  I hope that as I did, you will find this approach intriguing, helpful and empowering.  Mindful awareness can help you manage your ADHD with increased awareness, compassion and choice. I hope that you will make this approach your own, bringing curious attention to the present moment in all aspect of your daily life."
Tracklist
Mindfulness and ADHD (10:35)
My ADHD (4:53)
Attention, Executive Function, Emotion Regulation (8:21)
Formal and Informal Practice (6:47)
Labeling (2:27)
Common Obstacles (8:01)
Mindful Breathing (6:10)
Intro to STOP (2:02)
STOP (2:13)
Intro to RAIN (2:19)
RAIN (6:41)
Breath-Body-Sound (10:40)
Loving Kindness (6:17)
Mindful Presence (10:59)
Mindfulness in Daily Life (9:30)
About
Dr. Lidia Zylowska is a board-certified psychiatrist specializing in adult psychiatry, mindfulness-based therapy and adult ADHD. Dr. Zylowska completed her medical degree at Wayne State University in Detroit, Michigan and trained in psychiatry at UCLA. Dr. Zylowska studied complementary and alternative medicine (CAM) and completed a fellowship at the UCLA Center for East-West Medicine. In 2003, Dr. Zylowska was awarded the UCLA Robert Wood Johnson Clinical Scholars Program Fellowship during which, in collaboration with the UCLA Center for Neurobehavioral Genetics, she developed Mindful Awareness Program (MAP) for ADHD: a meditation-based training in attention self-regulation. One of the co-founders of the UCLA Mindful Awareness Research Center (MARC), she also serves at the Center as the Assistant Clinical Professor teaching clinicians about mindfulness-based approaches. She is also a member of the UCLA Collaborative Center for Integrative Medicine. Her study with mindfulness and ADHD was recently featured in the ADDitudes magazine, September 2006 issue and on KNBC, Los Angeles Local News program, December 2006. Dr. Zylowska's private practice is located in West Los Angeles.